Jun 28, 2017
Awesome-Con 2017 Recap
Overall, it was a lot of fun. It took almost an hour to get into the vendor hall and it was super overwhelming at first. I got a chance to see Phil Lamar! The voice of John Stewart in the DCAU Justice League cartoon, Samurai Jack, Hermes from Futurama, among others.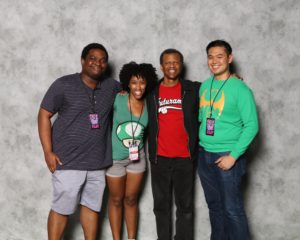 I got a chance to see Super Art Fight. A really fun art live art competition. They have shows and tour every once and a while so check them out at www.superartfight.com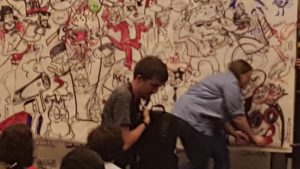 I didn't get any autographs, but I did get a sweet Doctor Who journal, in which I might try to get as many Doctor Who autographs as possible? I also tried Sci-Fi Speed Dating. Turns out its just speed dating at a convention, but not much Sci-Fi. It was kinda fun. Overall, if you go, go with a game plan. I didn't see as many panels or autographs that I wanted You may want to go on multiple days if you want to experience the whole convention. If you go on a single day, make sure you go when there's a lot of people you want to see. Also, bring snacks and Vitamin C so you don't get sick.
Time Codes
00:00 - Intro
00:57 - Awesome-Con Recap
00:43 - Outro
Ratings
Awesome Con 2017
Darryl: A good time with friends
References
http://www.superartfight.com/