Feb 20, 2017
Running on Rooftops celebrated our second anniversary this year, and to celebrate we are doing a number of interviews on the idea of fandom. We will be conducting a few interviews with some people in the online comic book community about doing geeky things and what being a fan means to them. These interviews will go over what they do, why they do it, and how they've grown from the experience.
Interview with CoffeeNCosplay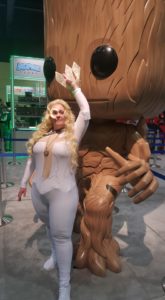 We had the pleasure of talking with Jenny, also known as CoffeeNCosplay. She is a cosplayer on the west coast, a big fan Cloak and Dagger, and a delight to talk to. We talk about cosplaying, the new Cloak and Dagger series, making costumes and how she's grown as a person. Have a listen!
Time Codes
00:00 - Intro
00:52 - New Interview Episodes
01:39 - Two Year Anniversary
03:20 - Pre-Interview
05:08 - CoffeeNCosplay Interview
33:55 - Post-Interview
36:03 - Next Interview
36:27 - Outro
References